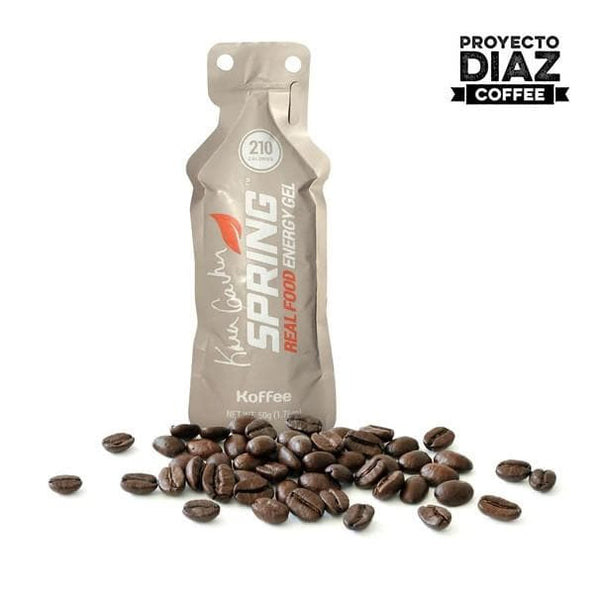 Spring Sports Nutrition - KOFFEE(Vegan)
---
---
---
---
In collaboration with the one and only Kara Goucher, Spring Sports Nutrition created Koffee, PR Grind Energy Gel designed to give you plenty of calories with a little extra caffeine kick from the highest quality cold brew coffee.
What to expect? 
-Silky texture
-Delicate sensation of smooth and creamy cashew butter
-Balanced flavor
-Elegant Diaz coffee finish
No caffeine added, approximately 10-15mg of caffeine from cold brew coffee
Kara Goucher is a long-distance runner who represented America at the 2008 Beijing Olympics and 2012 London Olympics.
She often battled what she calls a tempo tummy while running long distances. Intrigued by Spring products, she decided to join the Spring Tribe in 2019 and ultimately collaborated on the development of a new product that would fit her nutritional needs and put the stomach problems to rest. 
Being a picky eater, Kara settled on coffee flavor. 
With balanced energy sources, lots for calories and a smooth, satisfying coffee flavor from the highest quality cold brew, Koffee is ideal for a morning run or whenever the coffee kick is needed.   
It's delicious and it's made from real food ingredients.  
KOFFEE is roasted and brewed by the family business rooted in coffee. Their legacy begins in the early 1900's when the Diaz family began growing coffee in the lush hills of Oaxaca, Mexico. As the years went on, the estate was divided up and passed to great grandfather's children. One of those children is the grandfather, Juan Leovigildo Diaz, and for the past 70 years, he has been cultivating coffee on his farm, EL CARMEN.
They started by putting 10% of our profit back into the farm in the hopes of rebuilding both grandfather's farm and the Diaz legacy and creating a direct bridge between coffee producer and coffee drinker.
---